IPA-FREE way to clean AMD-3 LED resin

Updated on September 02, 2018
---
You have probably heard about the dangers of IPA (isopropyl alcohol) and other resin cleaning solutions. This time we will show you, how simple it is to clean AmeraLabs AMD-3 LED water washable resin by using just water and some dish washing liquid. We will also give you some tips on how to clean it with ultrasonic cleaner.
---
IPA (isopropyl alcohol) is a standard cleaning solution for SLA 3D printed parts. Typically ~99% IPA can be used or diluted with distilled water. However, IPA can be really aggressive with some 3D printing resins. If parts are cleaned or kept submerged into IPA for too long, it can significantly affect surface quality of 3D printed part and be the cause of substantial shrinkage. It is also worth mentioning that IPA produces flammable gases that can potentially be ignited by electronic appliances. Therefore, although, IPA does produce good cleaning results, the above-mentioned disadvantages force to look for other cleaning solutions.
You can also use some other cleaning solutions. One is a simple ethanol, which is less aggressive than IPA. You can also find some generic or branded non-flammable cleaning solutions for SLA 3D printing. Some of those work in a similar way as IPA does, i.e. solution dissolves resin. However, some actually do not dissolve 3D resin as it simply settles at the bottom. This allows to reuse cleaning solution multiple times, if you remove settled resin from the bottom of a cleaning tank time after time. On the other hand, if resin dissolves in a cleaning solution as it is with IPA, you will not be able to reuse it.
Water is the most well-known and safest cleaning solution. However, it is not compatible with most 3D printing resins. If you print with non-water-washable 3D printing resin, it could be very challenging or nearly impossible to clean part very well. On the other hand, SLA resins that are water washable will enable you to use simple tap water and easily clean your prints. Water washable resin will not dissolve in water either, so you will be able to remove it when it settles at the bottom and reuse the water multiple times.
AmeraLabs AMD-3 water washable resin for low-powered LCD/LED 3D printers like Anycubic Photon, Wanhao D7, Sparkmaker, Uniz SLASH and other is fully compatible with water. So let's take a look at some key water-cleaning approaches of this brilliant 3D printing resin.
Cleaning with ultrasonic bath
The most effective way to easily clean your AmeraLabs AMD-3 printed parts with water is using ultrasonic cleaner. Just follow these steps to get a well cleaned and post-cure ready 3D printed part.
Remove your part from the build plate of your 3D printer. Do not clean it in IPA or any other solution. If needed, mechanically remove excess resin from 3D printed part.
Fill your ultrasonic cleaner with distilled or tap water. Distilled water will not leave residue while drying.
Add washing liquid "Fairy Platinum". We suggest the following: 95% water and 5% detergent. We tried other soaps and dish washing liquids and none of them performed nearly as well as Fairy Platinum.
Preheat your ultrasonic cleaner up to 30°C temperature.
Clean your part for 10-15 minutes. Do not put your hands in water while cleaning!
If necessary, you can repeat cleaning cycle. For even better results, you can carefully use toothbrush to reach delicate parts of the model.
Wait for a few minutes for your part to dry and become fully black again and then post cure it under UV light.
The power of transducer of ultrasonic cleaner should be higher than 50W to achieve effective cleaning.
Do not pour IPA or any flammable liquid in a standard ultrasonic cleaner. Even with heat off it is a huge safety risk. IPA will give off flammable gasses that can be ignited by the circuitry in the ultrasonic cleaner. This is well documented and not recommended. We say "standard" because there are expensive and explosion proof, sealed ultrasonic cleaners on the market. The workaround for using IPA in such cases is to put the IPA in a sealed beaker or other vapor safe container with the part inside, then "float" that in water inside the tank in ultrasonic cleaner.
Below you can see images of a sample SLA 3D printed part before and after cleaning. AmeraLabs AMD-3 water washable resin was used.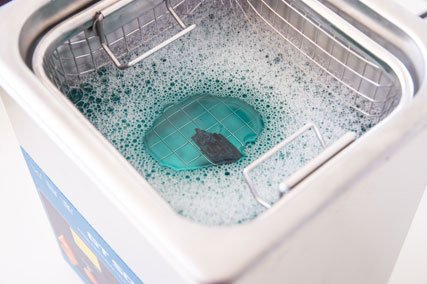 As you can see, white residue may appear on the part right after cleaning with water. However, if you wait for a few minutes you will see that it will gradually turn back to black. Wait until it is fully dry and black and then post-cure it.
But what to do if you do not have ultrasonic cleaner? Is there a way to clean a part without it? The answer is "Yes there is".
Cleaning without ultrasonic cleaner
If you do not have an ultrasonic cleaner, it is not a big problem. You can still clean your 3D printed models, although, it can be a bit tricky to reach and clean delicate spots without ultrasonic cleaner. Cleaning results can also vary depending on the complexity of your 3D printed object.
In order to clean parts without ultrasonic cleaner, just follow these simple steps.
Prepare a solution of 95% water and 5% "Fairy Platinum".
For better results, preheat solution up to 25-30°C.
Submerge your part into this foamy solution and clean it with generic toothbrush. Continue until you reach your desired result.
One final thing to mention is that this cleaning solution does not dissolve 3D printing resin as IPA or other commercially available cleaners do. In this case, separated resin will simply settle at the bottom after each cleaning. Just remove this resin residue once in a while to extend the lifetime of your cleaning fluid!
How do I get this water washable resin?
You can purchase a sample here: AMD-3 LED 250 ml SAMPLE. If you purchase this sample bottle and do not like the performance of the resin, we will refund the whole purchase amount except original shipping and handling costs!
Go here to purchase a bigger quantity: AMD-3 LED FAST curing WATER washable 3D resin for Miniatures.
Happy printing!