AMD-3 LED resin review for Anycubic Photon 3D printer

Updated on July 19, 2018
Tinkerers, Makers, Designers and 3D printing enthusiasts Vinicius Silva (X3msnake) and Toby Kirkby (Toby1kanobi) compiled this wonderful AMD-3 LED resin review. They tested our material on Anycubic Photon 3D printers and shared their findings in this Facebook group: https://www.facebook.com/groups/AnycubicPhoton/. We are reposting it here with their permission for you to use and reference.
SUMMARY
PRINTER: Anycubic PHOTON (PN10A32XX8097)
Test method: Exposure Card; Limit validation prints with AmeraLabs Town
Tester: X3msnake
Resin information
Observation tests
Smell: Less than Anycubic but slightly noticeable | Color pre-cure: Deep Black | Viscosity: Less than Anycubic | Water washable (IPA seems to be too strong and causes cracking)
Exposure tests
50 µm CARD 28.3º C > Exposure sweet spot: 10 s | Exposure range: 8-18 s | Detail holding: Very good at negative space. Fine positive spaces need longer exposures at cost of losing negative details
Verification tests
Minimum Exposure time for light supports (0.4mm tip) @50 µm: 12 s
Exposure cheat sheet
This cheat sheet shows how different layer exposure times may result in higher or lower details of the printed part.
Download high resolution picture here: https://github.com/Photonsters/anycubic-photon-docs/raw/master/resin-tests/Ameralabs-AMD3-Black-180709-x3msnake.jpg
Post processing
From the short tests I've done, this resin has a great potential for a reasonable price. Better details in the negative space than Anycubic black and about the same exposure sweet spot/range. I've found that, this resin is fragile to solvents and cracks easily with IPA but it turns out that this apparent "issue" is what make it really easy to clean with water.
Just got myself an Aldi 50 W 600 ml ultrasonic cleaner and printed this 9h model @10 µm layer to test photon's max Z definition. The girl is 20 mm tall.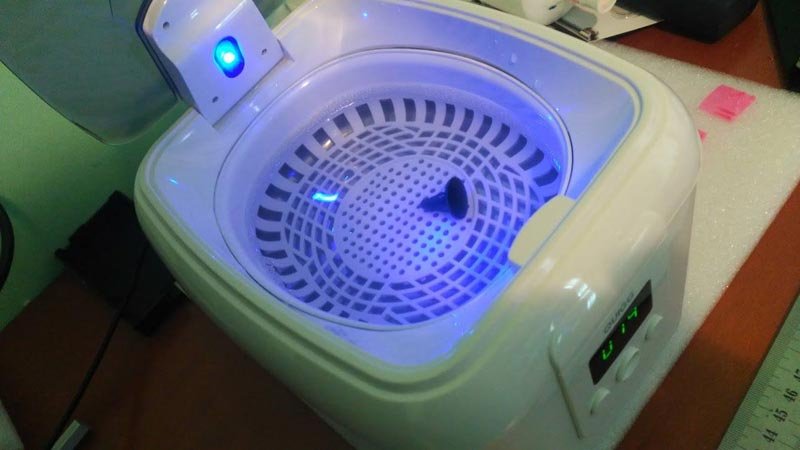 First I did a single 180 s cycle with just water and most resin cleared without even adding soap. Look at the back with the supports those are 0.2 mm width supports and 0.2 cone tips. Then did a second 180 s cycle with hand soap enough to wash hands.
The supported model photo is the pre-cured version then I removed supports and did 30 min post cure with a 35 W nail spa. After that I filed the nibs and did a new cycle with clean water and a squirt of rubbing alcohol. Great details and no unwanted cracks!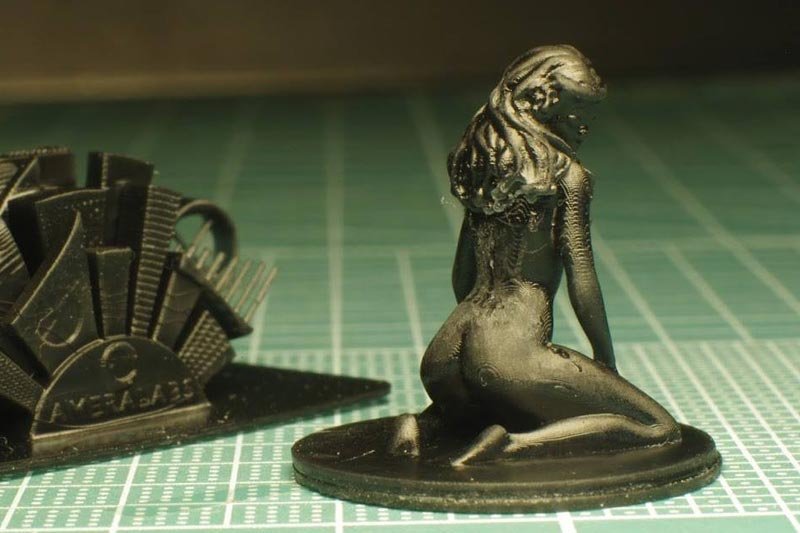 Thanks X3msnake and Toby1kanobi, for cracking our material and this extensive AMD-3 LED resin review!
Valuable links: